A revitalization tradition in many towns, First Fridays are meant to jump-start a "happening downtown" and draw community members of all shapes and sizes into a central location for an evening of music, art, food, and culture. First Fridays are our "fake-it-til-we-make-it" effort to provide area residents and visitors with a taste of the atmosphere we'd like to see in our downtown every single day!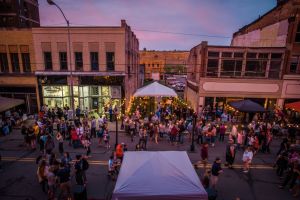 Help us unravel the gloomy misconceptions about this city and spend a night singing, drawing, painting, shopping, playing games, exploring, and learning about the history and culture that is rightfully ours, right here in Steubenville.
We plan to bring back what made last year so memorable – bands on a stage in front of Leonardo's Coffeehouse & Renaissance Coffee Roasting Co., a street market up and down both sides of Fourth St., late night shopping and dining at the local establishments, children's games and activities, shows at the Grand Theater, dancing, competitions, art displays, and themed activities.
The 100 block of N 4th Street (business district, Market to Washington) will be closed for the evening, in order for us to enjoy festivities in the street safely!
Stay-tuned for announcements about the musicians who will be performing, featured artists, children's activities, and businesses open late!
This is something we do out of love, and we are grateful for any help we can get. Let us know if you have the resources to donate or time to jump in as a volunteer!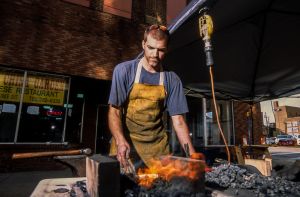 If you would like to apply as a food vendor, artist, or non-profit, please fill out the online application!
We do not allow any direct selling, e.g. Pampered Chef, Jamberry, Thirty One, etc. Only handmade products and art. There are no corporate appearance opportunities.
Special thanks to our 2023 First Fridays on Fourth Street Main Stage sponsor: Trinity Health System
Our "Gold" sponsor this year: Franciscan University Student Government
Our "Silver" sponsors this year are: Tri-State Financial Services, McDonnell Chiropractic, The Steubenville Visitor Center, and Choi Orthodontics
Our "Bronze sponsors this year: Bookmarx Bookstore, Smitty's Carpet, and Oklok Criss & Associates
With support from Downtown Bakery, Voto Auto Sales, D'Anniballe & Co. CPA, Hauser's Furniture, and Ace Optical Co.
For more information about First Fridays, email us at [email protected], or message us on Facebook!